16.1

Supply and Demand in Health-Care Markets
Learning Objectives
What factors determine the price and quantity of health care?
In what sense is spending on health an investment?
What factors determine the demand for health-care services?
What is the production function for health?
Suppose we want to explain why health care is more expensive in the United States than in Europe. Then supply and demand seems like a natural starting point. If we imagine a market for health care drawn in the usual way, with the quantity demanded on the horizontal axis and the price on the vertical axis, then the question becomes, "Why is the price of health care higher in the United States than in Europe?"
Supply and demand offers two possible answers (Figure 16.3 "Two Explanations for Why Health Care in the United States Is More Expensive Than in Europe"). The prices can be high because demand is high. For example, if the demand curve is further to the right in the United States compared to Europe (part [a] of Figure 16.3 "Two Explanations for Why Health Care in the United States Is More Expensive Than in Europe"), this implies—all else being equal—higher prices in the United States. The other reason for high prices is because supply is limited. If the supply curve in the United States lies further to the left than the supply curve in Europe (part [b] of Figure 16.3 "Two Explanations for Why Health Care in the United States Is More Expensive Than in Europe"), then this also would imply—all else being equal—higher prices for health care in the United States. Neither argument seems that compelling, which naturally leads us to wonder if the supply-and-demand framework is really the best framework for analyzing health care. In fact, there are good reasons to think that the supply-and-demand framework is not the best approach to this market.
Figure 16.3 Two Explanations for Why Health Care in the United States Is More Expensive Than in Europe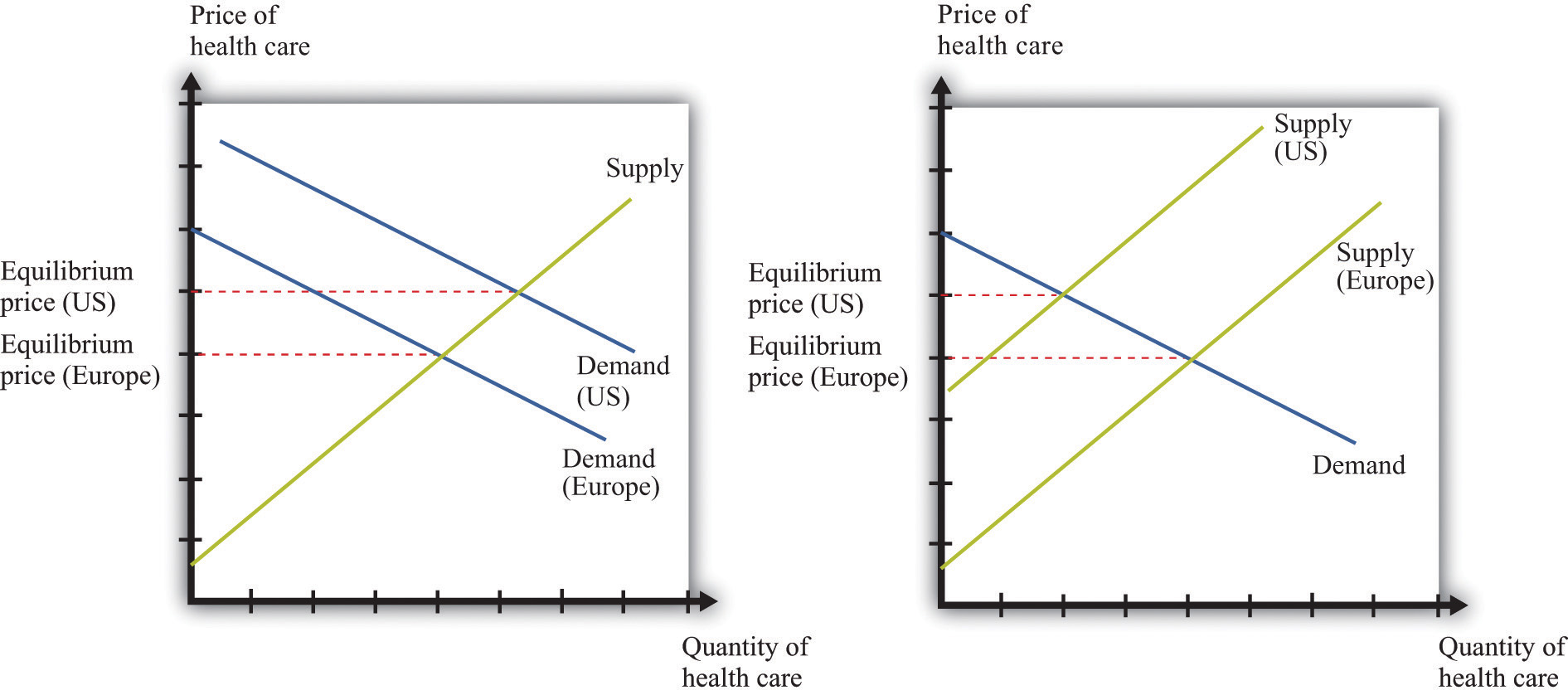 Supply and demand offers two possible explanations of high health-care costs in the United States: demand in the United States is high (a), or supply in the United States is limited (b). Neither is a very compelling explanation.
Let us think about the demand side first. Our standard approach to demand is based on the idea that each individual will consume a good or a service up to the point where the marginal valuationThe maximum amount an individual would be willing to pay to obtain one extra unit of that good. from one more unit equals the price of that additional unit.Chapter 4 "Everyday Decisions" explains this idea in more detail. Unfortunately, the health-care consumer often has very little idea of the value—let alone the marginal valuation—of the particular treatment being received. The consumer is very often not paying the full price for that treatment because the cost is frequently covered, at least in part, by insurance. Together, these mean that our traditional approach to demand does not work very well for health-care services.
The supply side is also problematic. First of all, some health-care suppliers have significant market powerA firm that has a downward-sloping demand curve.. This does not mean that we can get no insights from supply-and-demand reasoning. But it is trickier to compare the price of health care across countries because we have to consider differences in market power as well. A bigger problem is that some health-care suppliers, such as hospitals, are either government-controlled or not-for-profit institutions. The standard economic approach presumes that firms seek to make as much profit as possible, but government or not-for-profit hospitals may not have profit maximization as their goal.
In addition, health-care prices are not necessarily determined by supply and demand. Again, the government has a significant influence on prices: for example, the governments in some countries set prices for pharmaceutical products. Even if they are not set by the government, prices may be determined by bargaining between, say, hospitals and drug companies rather than by supply and demand. Furthermore, if people need health-care services, then their demand is likely to be very inelastic (the quantity demanded does not respond much to price changes). Inelastic demand is not, in and of itself, a problem for a competitive market. It just means that the equilibrium price could be very high. But if we couple inelastic demand with consumers who lack information and add in some market power by suppliers, then matters become more complicated. Perhaps you already have a sense of why: we have a large group of consumers with very inelastic demand who are relatively uninformed. This sounds like a gold mine for the supplier.
We have so far ignored the issue of what exactly is being traded in this market. "Health-care services" can mean many very different things:
Labor time of various trained professionals, such as GPs, specialists, nurses, medical technicians, pharmacists, and many others
Procedures and testing, such as magnetic resonance imaging (MRI) scans and laboratory analyses of blood samples
Hospital and nursing care services
Emergency services such as ambulances
Pharmaceutical products (which itself covers a huge range, from bandages to chemotherapy drugs)
You can probably think of other components as well. So it is more than a little misleading to treat health care as something homogeneous that is bought and sold in a single market.
We hope that by now we have completely muddled your view of the health-care market. Our main point is that the simple framework of supply and demand is not sufficient for understanding health care. There are too many different markets, each with its own peculiarities and unusual features. And those features mean that there are several reasons why we might expect inefficiency. One, as we have already noted, is the presence of market power. Another is the various information problems we have mentioned. A third is that some aspects of health care have the characteristics of a public goodA good that is both nonrival and nonexcludable: it can be provided to many users without excluding anyone..
The Demand for Health Care
Now let us dig a little deeper into the demand side of health care.
Response to Price
The law of demand applies to health care as in other markets: as the price of health care increases, you demand less of it. But we must be careful. What matters is the price of health care to you. If you have health insurance, this price may be much lower than the actual cost of providing you with care. Under most health-insurance contracts, the marginal private cost of care to a household is less than the marginal social cost of providing that care. The household has an incentive to purchase a lot of health-care services because its purchases are, in effect, being subsidized by insurance companies. We take up the topic of health insurance later in this chapter.
Another key characteristic of health care is that demand is relatively inelastic. If you are sick and require care, you will purchase health-care services at almost any price. Of course, your ability to purchase health care is ultimately limited by your income, but you are likely to trade off spending on many other products to purchase the medical care you need. This is why we often read stories about people without insurance being bankrupted by medical expenses.
Health as Investment
Everyone prefers being healthy to being sick. The demand for health care is in part an expression of this preference. One thing that makes health care different from most other goods and services, though, is that it is simultaneously an investment. Money you spend on being healthy today will also benefit you in the future. There are several different ways in which spending on health care represents an investment.
Mortality. One clear impact of our health-care choices can be seen in terms of mortality rates. Mortality rates measure how likely we are to die at different ages. In 2004, the mortality rate in the United States for people ages 15–24 was about 80 out of 100,000, or 0.08 percent. In contrast, the mortality rate for those over the age of 85 was 13,823 out of 100,000, or 13.8 percent.Mortality rates can be found at the National Center for Health Statistics, National Vital Statistics System, "Mortality Tables," accessed March 14, 2011, http://www.cdc.gov/nchs/nvss/mortality_tables.htm. In other words, the typical young person has about a 1 in 10,000 chance of dying in a given year, whereas the typical old person has more than a 1 in 10 chance of dying.
It is not surprising that the mortality rate increases with age—that is, that young people have a lower probability of dying than older people. (Infants are an exception: a 6-month-old child is more likely to die than an 18-month-old child because very young children are particularly susceptible to certain diseases.) But these average mortality rates disguise a lot of variation, much of which is under our control. There are many behaviors that have predictable effects on our likelihood of dying. Smokers have a higher probability of dying than nonsmokers. Those who are obese have a higher probability of dying than those who are not. Diet, exercise, and risky behaviors (which includes everything from unprotected sex to skydiving) affect mortality rates as well.
Cigarette smoking is linked to lung cancer and thus to mortality. If you compare two similar individuals of the same age, one who is a smoker and the other a nonsmoker, then the mortality rate is significantly higher for the smoker. This does not mean that the smoker will necessarily die before the nonsmoker. It means that all else being the same, smoking increases the probabilityThe percentage chance that an outcome will occur. of death. Refraining from smoking is a type of investment in your future.
Our diet also affects our probability of becoming ill and of dying. As with cigarettes, there are often trade-offs between eating and drinking things we enjoy and the effects of such consumption on our long-term health. Making these types of choices is an economic decision. Each of us makes different choices because we value the taste of particular foods differently, and we value our overall health differently as well. If a thirty-year-old discovers he has elevated cholesterol levels that pose a long-term risk of heart disease, he may decide to adjust his diet, perhaps consuming less red meat. If an eighty-year-old learns the same news, he may not think the long-term benefit is worth giving up his steaks for.
Productivity. Being healthy also means that you can work and earn wages. One of the costs of poor health is lost days at work. This is a cost not only to the individual but also to society as a whole: the economy's population is producing less output. If you are in poor health, then you risk losing wages for the days when you cannot come to work. Many employers provide insurance for these lost wages through the provision of sick days: if you are sick, you are not expected to work but you will still be compensated up to a contracted number of days per year. In addition, there is disability insurance as part of the social security system in the United States.The government program is summarized at http://www.ssa.gov/disability. Private employers sometimes also offer disability insurance as part of their compensation packages, and you can also purchase insurance directly from an insurance company.
Information Problems
Health care is an example of a good for which the typical individual is unable to determine the quality of what is being purchased. You can think of other examples, such as legal services and used cars. In such situations, how can we make good decisions? Generally we do so by relying on the advice of experts. In the case of health, these are the doctors, dentists, and other health professionals who are trained to analyze our health situation and make suggestions to us. We listen, try to understand, and, using their advice, make an informed choice.
Suppose you get a phone call from someone telling you they know of a stock, trading on Wall Street, that will double in price the following day. You might be very skeptical, suspecting that they have other reasons for wanting you to buy. Compare this to a conversation with a medical expert. Generally you are going to believe that the expert is acting in your best interests. Although you might get a second (or third) opinion, you do so because health problems are complex and the first expert may have missed something, not because you are afraid the doctor is misleading you in order to profit from your visit. But why do we trust medical experts so much more than the provider of stock tips? We generally do so because we trust that their incentives are aligned with our goals; that is, we hope that they are motivated to act in our best interests.
The Supply of Health Care
We now turn to the supply side of health care. Economists often talk of output being produced using a production function that uses labor, capital, and intermediate inputs. What is the production function of a hospital?
The labor in a hospital includes doctors, surgeons, orderlies, technicians, nurses, administrative staff, janitors, and many others.
The hospital buildings are part of the hospital's capital stock. In addition, hospitals contain an immense quantity of other capital goods, such as hospital beds and diagnostic tools—everything from stethoscopes to x-ray machines.
Intermediate inputs in a hospital include dressings for wounds, and pharmaceutical products, such as anesthetics used for operations.
Other sectors of the health-care industry likewise employ labor, capital, and intermediate inputs.
Price Determination
If this chapter were like most others in this book, we would now turn to a discussion of how supply and demand interact in a competitive market to determine the price. Or, recognizing that firms with market power set prices, we might use the condition that marginal revenue equals marginal cost to talk about price determination. Unfortunately, when it comes to understanding the market for health care, these tools are not as useful.
To understand why, imagine you want to book a hotel room in New York City. You can call up any hotel and find the price of a room. Or you can go on the Internet and check prices either at the hotel's website or at any number of other sites that provide booking services. You can find information about the hotel online, read reviews from previous guests, and talk to hotel staff members on the telephone if you need more information. If you are in the city, you can also walk into a hotel and find out the price and the hotel's amenities.
Now compare this to a hospital. It is much harder to get information about prices, and you cannot simply walk in off the street and purchase an operation. You can in fact find out prices for hospital procedures if you look hard enough. For example, there is a website that allows you to find charges for different procedures in Wisconsin (http://www.wipricepoint.org). Here you can "shop" for, say, different types of knee surgery. But these charges do not necessarily reveal the true price to you as a consumer because they may not include all the costs of doctors and other inputs. If you have insurance coverage, meanwhile, you need to find out what portion of any bill will be covered by your insurance. Figuring out the price of a procedure is quite complicated.
How, then, are prices determined? And, importantly, what price are we talking about: the price you pay or the money received by the hospital? Many of the most important prices are determined by the interaction of a few big players, including the government, insurance companies, and pharmaceutical companies. Figure 16.4 "Payments to Hospitals and Doctors" gives a sense of the sources of income for hospitals and doctors. Hospitals and doctors get paid by insurance companies, households, and the government.
Medicare (http://www.medicare.gov/default.aspx) is a federal program intended to provide health services to elderly (over 65) and disabled people. It covers nearly 40 million people. Under this program, the government sets fees for services provided by physicians. A listing of those fees is available through the Health and Human Services website. These are the fees the government will pay physicians and hospitals for these services.
Medicaid (http://www.cms.gov/MedicaidGenInfo) is run by the US government in conjunction with state governments. This program provides health care to low-income households through payments made directly to a health-care service provider, such as a hospital.
Figure 16.4 Payments to Hospitals and Doctors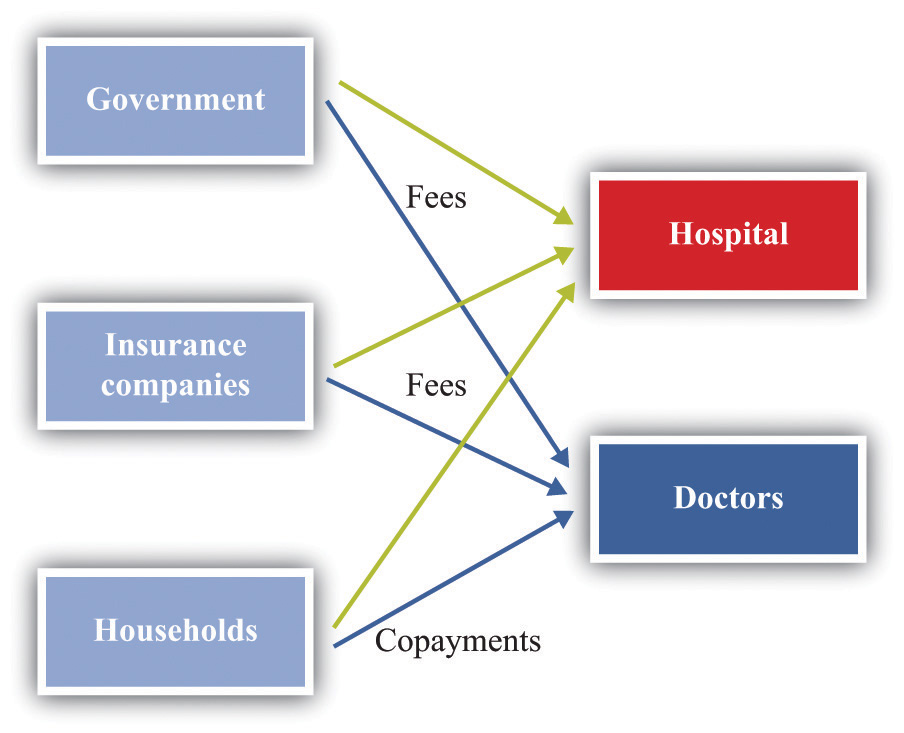 Because of these programs, the government is a big player in the health-care market. Government decisions determine the demand for health-care services. Governments do not take prices as given. In some cases, the government sets rates for certain procedures, and health-care providers respond. In other cases, the government is involved in negotiations—with pharmaceutical companies, for example.
Insurance companies provide additional sources of revenues to the hospital and a doctor. If you are a policyholder and are admitted to a hospital, your insurance company will reimburse the hospital for part of the cost of your care. It also reimburses your doctor directly. How much of that cost is reimbursed depends on your insurance policy. If you enter a hospital, say, for an operation, the amount of money the insurance company will pay the hospital is set by an existing agreement. As a result, hospital administrators face a complex set of repayment schedules. Reimbursement rates for a given service depend on who is buying the service, as the following quotation illustrates: "Medicaid pays 80 percent of what Medicare pays and about 50 percent of what a commercial insurance carrier like Blue Cross/Blue Shield pays. For example, if Medicaid reimbursed $500 for a gall bladder removal, Medicare would pay $625 and the commercial carrier $1,000 for the same procedure." Because of these differences in reimbursement rates, doctors and hospitals may sometimes decide not to provide services to certain patients. The same article notes that doctors sometimes turn down Medicaid patients because of these low rates.
And what will you pay if you walk into a hospital without health insurance? An April 28, 2008, article in the Wall Street Journal describes the plight of a cancer patient without adequate insurance. The patient was looking for treatment at a not-for-profit hospital in Texas. Her treatment required a payment of $105,000 in advance. This practice of requiring prepayment is part of a trend in the industry.
Hospitals are adopting a policy to improve their finances: making medical care contingent on upfront payments. Typically, hospitals have billed people after they receive care. But now, pointing to their burgeoning bad-debt and charity-care costs, hospitals are asking patients for money before they get treated.
Hospitals say they have turned to the practice because of a spike in patients who don't pay their bills. Uncompensated care cost the hospital industry $31.2 billion in 2006, up 44 percent from $21.6 billion in 2000, according to the American Hospital Association.
Key Takeaways
Due to informational problems for households, market power by suppliers, and government intervention, the market for health care cannot be analyzed by using standard supply-and-demand curves.
Spending on health care today has an effect on your health status in the future. In that sense, this spending is an investment.
The demand for health services, like other goods, depends on your income and the price of the services. Unlike your demand for many other goods, your demand for health services is influenced by the costs of health insurance. Also, unlike the case for many other goods, consumers who demand health services are relatively uninformed about the service they are buying.
The production function for health takes inputs, such as doctors, nurses, and machines, and produces health-care services.
Checking Your Understanding
List three reasons why the conventional supply-and-demand model may not fit the market for health services well.
How is the demand for health services influenced by age?
Give an example of two intermediate inputs into the provision of health-care services.