14.2

Externalities
Learning Objectives
What is an externality?
What are the ways in which problems caused by externalities can be solved?
What are some of the difficulties in designing policies to deal with externalities?
At the heart of the social dilemma is a divergence between private costs and social costs. Individuals and firms take into account only private costs when making decisions. But the social costs should matter as well. Thus actions that are individually optimal are damaging to society as a whole. Now that we have diagnosed the problem, how do we fix it? The economist's answer is that we must change people's incentives. A social dilemma arises when individual incentives are not well aligned with the interests of society as a whole. Economic policies focus on how to adjust those incentives so that there is a better match between individual and social aims.
Before discussing these policies in detail, we look again at the problem of the social dilemma, focusing now on the actions that people choose to take. In our Mexico City example, people decide whether or not to drive. If they choose to drive, this action affects the well-being of others. Economists say that there is an externalityThe direct cost imposed or direct benefit bestowed by one person's actions on others in society. associated with the action of driving.
An externality must come from an action—something that somebody does. Good weather is not an example of an externality. Nor is an earthquake. The action could be taken by an individual (say, smoking a cigarette) or a firm (dumping toxic waste into a river). In most cases, the action is associated with production by a firm or consumption by a household.
In addition, the action must directly affect another individual's well-being or a firm's profits. It could be something that affects the health or happiness of an individual. It could be something that affects the profits of a firm. ("Directly" here means that the effect doesn't come about because of an induced change in behavior. Suppose, for example, that a firm offers you a job, but to get to that job you now must spend a longer time commuting. The extra commute is not an externality imposed on you by the firm.)
Finally, the effect must not operate through prices. Whenever we take part in market transactions, we have effects (usually tiny effects but effects nonetheless) on market prices. These changes in prices make others in the market better or worse off. But they are not externalities.
In our earlier example of driving, the marginal social cost was larger than the marginal private cost. The gap between the two is a measure of the size of the externality. Because the action of driving imposes a cost, we call this a negative externalitiesThe direct cost imposed by one person's actions on others in society.. Pollution is the classic example of a negative externality, but there are others. Congestion of public roads or public parks is another instance of a negative externality.
By contrast, there are also occasions when an action bestows an external benefit on third parties. We call this a positive externalitiesThe direct benefit bestowed by one person's actions on others in society.. For example, writers of open-source software create a social benefit that is in excess of the private benefit that they personally obtain. As another example, suppose that a firm engages in research and development and creates new knowledge. If others are also able to benefit from that knowledge without paying for it (for example, after the expiry of a patent), they are beneficiaries of a positive externality.
Toolkit: Section 31.19 "Externalities and Public Goods"
A positive externality arises when one person's or firm's action bestows benefits on others. When there is a positive externality, too little of the action is undertaken.
A negative externality arises when one person's or firm's action imposes costs on others. When there is a negative externality, too much of the action is undertaken.
Although negative externalities sound bad and positive externalities sound good, positive externalities are also a source of inefficiency. The logic exactly parallels the case of negative externalities. Suppose a firm is deciding how much output to produce. To maximize its profits, it sets marginal cost equals to marginal private benefit (that is, marginal revenue). But if the firm's production generates a positive externality, the marginal social benefitThe benefit to society of consuming or producing one more unit of a good or service. exceeds its marginal private benefit. The firm produces insufficient output from a social point of view, as illustrated in Figure 14.4 "A Divergence between Marginal Private Benefit and Marginal Social Benefit". The principle for socially efficient production is for the firm to produce up to the point where marginal cost equals marginal social benefit.
Figure 14.4 A Divergence between Marginal Private Benefit and Marginal Social Benefit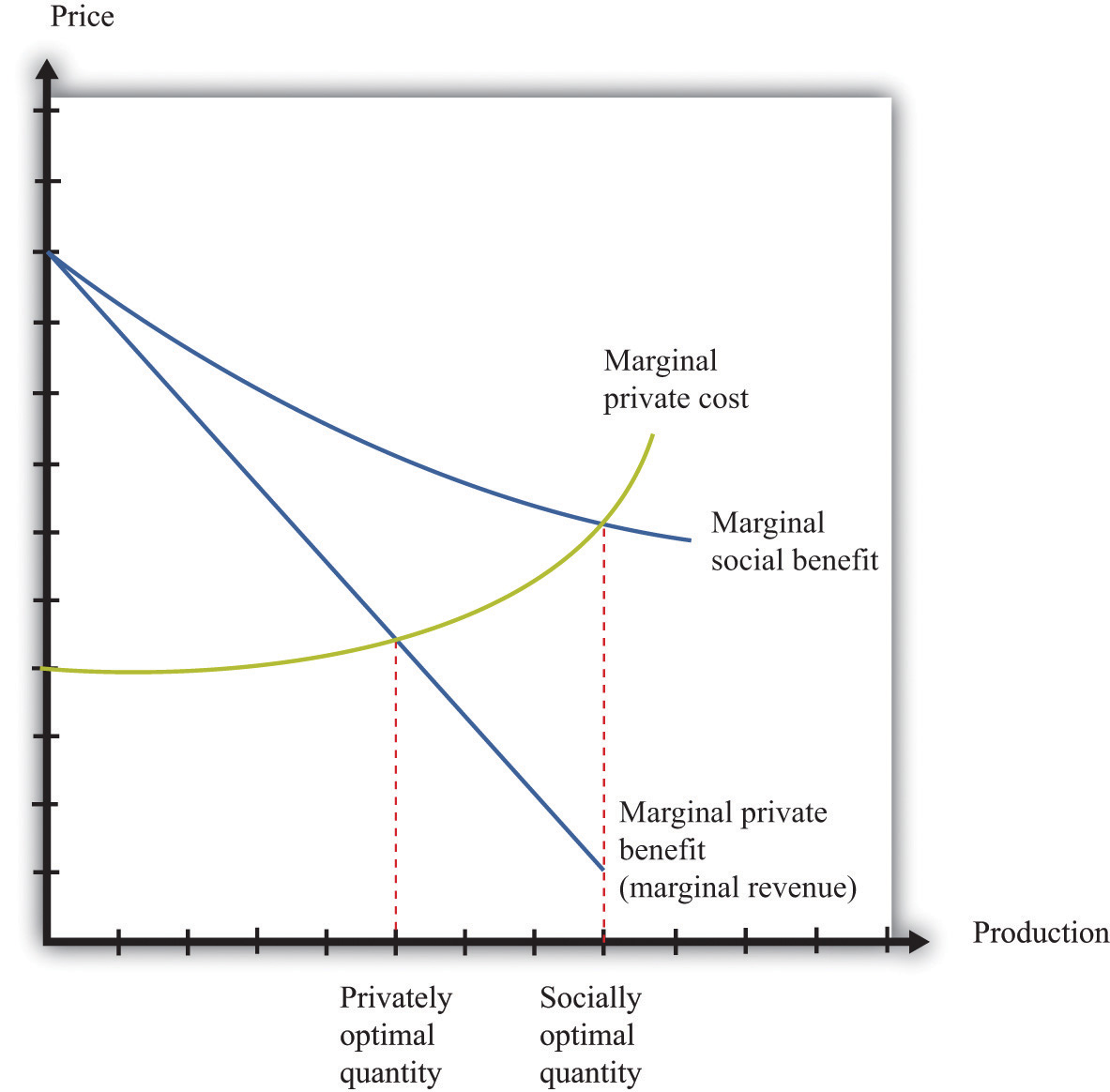 From a social point of view, however, the firm should produce up to the point where marginal social benefit equals marginal cost.
Solutions to Externality Problems
The definition of an externality makes it clear that the fundamental problem is one of behavior—actions by a firm or a household. The behavior reflects a difference between private costs or benefits and social costs or benefits. These observations also point us to a solution. We need to change incentives so as to align private costs or benefits and social costs or benefits. For example, if the private marginal cost of pollution to a firm were somehow equal to the social marginal cost, then a firm acting in its own self-interest would produce the socially optimal amount of pollution. The challenge for policymakers is to find a way to adjust the incentives so that the firm takes into account social marginal costs in addition to private marginal costs.
From this perspective, inefficiency arises because there are no market signals that force the polluter to take into account how its actions are affecting others. The goal of government policy in the presence of externalities is to provide incentives for firms and households to internalize their effects on others. These policies include direct restrictions on what people can do (for example, banning smoking in public buildings), taxes and subsidies that affect prices in an economy, and the introduction of markets that force polluters to pay for the right to pollute. Because externalities involve a divergence between private costs and social costs (or private benefits and social benefits), the goal in all cases is to adjust the incentives so that the actor internalizes the externality.
Difficulties with Environmental Policy
Our discussion of externalities makes it seem that it is straightforward for policymakers to design effective environmental regulation. Government regulators simply need to calculate the difference between marginal private costs and marginal social costs and between marginal private benefits and marginal social benefits. Then they can put in place the appropriate taxes, subsidies, or both.
In practice, a major difficulty is knowing how to place values on externalities. Environmental policies to combat air or water pollution require the government to monitor the amount of emissions effectively and accurately. If emissions cannot be monitored, then tax or permit schemes are impossible to implement. Effective environmental policies also require the government to measure the damage incurred by the victims of the pollution.
As with many economic policies, questions also arise concerning the distribution of resources. In an environmental context, the key point of debate is often whether compensation should and will be paid. If a factory pollutes the river running through a town, imposing negative externalities on the town's residents, then is it enough to adjust the incentives so that there is the "right" amount of pollution—that is, so that the marginal benefit to the firm equals the marginal social cost? Or should the firm also be required to compensate the residents of the town? This is again a question of property rights, for we are really asking who has the initial right to the clean water in the river. It is also closely related to the question of whether pollution permits should be given away (implying that firms have the property rights) or sold at auction.
Whenever government steps in and enacts policies to affect behavior, it also must worry about whether there will be perverse responses to those incentives. As an example, the disposal of solid waste is a significant environmental problem in many countries. It is in part an economic problem: people do not usually pay directly for the removal of their garbage, so they do not have an incentive to recycle or avoid waste in other ways. A solution—favored by many economists and adopted by some municipalities—is to charge people a fee per bag for garbage removal. A study by Don Fullerton and Tom Kinneman revealed that this policy can bring its own problems.Don Fullerton and Thomas Kinneman, "Household Responses to Pricing Garbage by the Bag," American Economic Review 86, no. 4 (1996): 971–84. When such a scheme was introduced in Charlottesville, Virginia, citizens responded by putting much more garbage in each bag than they used to (Fullerton and Kinneman called this the "Charlottesville stomp"), so the reduction in the waste stream was lower than the authorities had anticipated. More seriously, some people also responded by dumping their trash illegally.
Valuing the Environment
The measurement of environmental harm is complicated. Suppose, for example, that pollution brings with it increased risk of disease or death. How do we place a cost on these risks? We can perhaps attempt to value health in terms of the costs of treatment and lost working hours, but it is much harder to place a value on the distress and suffering caused by ill health. Economists, lawyers, and others have even come up with varying ways to place a dollar value on human life, but—as you can surely imagine—these techniques are contentious. One reason is that all such approaches tend to rely, at least in part, on estimates of lost earnings. This means that the lives of skilled and high-paid individuals may end up being valued more than the lives of unskilled, lower-paid individuals.
A second set of issues has to do with how we value damage to the natural environment. Take, for example, the oil leak in the Gulf of Mexico in 2010, which caused substantial harm to birds, fish, and ocean ecosystems. Most of us are upset by the sight of seabirds with their feathers clogged with oil. But how should we assess the value of such damage? Similarly, what is it worth to ensure the survival of a particular endangered species?
Where possible, economists look to market prices to provide some indication of the value that society places on goods and services. In the case of environmental goods, though, we typically cannot look to markets. In such cases, we may need to use surveys and other methods for inferring household valuations. This is known as contingent valuationThe techniques used for eliciting the values that individuals place on goods and services that are not bought and sold in the marketplace..
For several reasons, it is very difficult to carry out reliable contingent valuation surveys. In such a study, a household might be asked, "What would you be willing to pay to ensure that the whooping crane (for example) does not go extinct?" Such surveys often give implausible answers. For example, following an oil spill, people in Washington state and the province of British Columbia were supposedly willing to pay over $11,000 for each seabird that was saved—even though the seabird population would recover naturally in a decade or so.
The main problem, as you can perhaps guess, is that people do not face a real budget constraint when asked such questions, so they have no particular incentive to give a truthful answer. A related issue is that people are typically presented with an issue in isolation. A household that claims to be willing to spend $50 to save one species from extinction might not be willing to spend $10,000 to save 200 species at a cost of $50 each. A third issue is that people may not have the information they need to make good decisions. We are not used to making purchases of environmental quality, so it is harder for us to give our valuation of a clean river than it is for us to give our valuation of, say, a bar of soap.
Yet, for all these objections, we do need some way of placing a value on environmental resources. The fact that we find it difficult to measure such things does not mean that they have no value. Contingent valuation studies are now very sophisticated, and researchers are very active in the search to make such studies better and more accurate.
Whose Welfare Should Be Included?
Another difficulty with environmental policymaking is that it is not always clear whose opinions should be taken into account when making environmental policy. For example, suppose there were a proposal to allow a major resort development at the Grand Canyon. Should that be the concern of residents of the area, the state of Arizona, or the entire United States? For that matter, should residents of other countries be entitled to a voice? After all, the Grand Canyon is one of the most spectacular sites in the world, visited by thousands of foreign tourists every year.
Perhaps you think it self-evident that foreigners should have no say in US environmental policy. Yet environmentalists in the United States and Europe have often voiced their opinion on the environmental consequences of policies in other countries, such as the construction of the Three Gorges Dam in China. Similarly, much of the world was outraged when, in 2001, the Taliban in Afghanistan destroyed two giant Buddhas that had been carved in the sixth century.
An even bigger problem has to do with the treatment of future generations. When you drive your car today, you are imposing costs not only on the living but also on those as yet unborn. The people most likely to be adversely affected by global climate change are not yet alive. How should we take into account their welfare and well-being? Scientists are largely in agreement that carbon emissions from the burning of fossil fuels will have an effect on global climate. Most environmental economists are convinced by this evidence, yet there continues to be disagreement among economists about the appropriate policy response. Most of that disagreement in the end comes down to different views about how to account for the welfare of future generations.
Uncertainty
One of the biggest difficulties with designing environmental policy is uncertainty. Global climate change is the clearest example. Although there is widespread agreement that we face some risk of climate change from carbon emissions, there is debate about the size of the effect. It is possible that we are facing only a small change in global climate, in which case it might not be worth spending a lot of resources now on reducing emissions. It is also possible that there could be catastrophic effects on global climate, in which case we should spend a lot of resources right now on reducing carbon emissions. And it is probable that we are facing something in between these extremes. Policymakers must try to get good estimates of how likely these scenarios are and then must decide how risk-averseBeing willing to pay more than a gamble's expected loss in order to avoid that gamble. they want to be when setting policy.
International Cooperation
Because environmental problems are often not confined to a single country, international agreements are sometimes needed for effective environmental policy. The Montreal Protocol on Substances That Deplete the Ozone LayerUnited Nations Environment Programme, "Section 1," Handbook for the Montreal Protocol on Substances that Deplete the Ozone Layer—7th Edition (2006), accessed March 14, 2011, http://ozone.unep.org/Publications/MP_Handbook/Section_1.1_The_Montreal_Protocol. is an example of successful international cooperation on environmental policy. In the 1970s, scientists recognized that certain chemicals known as chlorofluorocarbons (CFCs) were leading to a reduction in the atmospheric ozone layer. The ozone layer filters out dangerous radiation, so its destruction was linked to increases in skin cancer and other problems. The Montreal Protocol came into force in 1989 and has been signed by almost every country in the world. It mandated a gradual phaseout of CFCs, and current research shows that the atmospheric concentrations of CFCs have decreased as a result.
To date, however, there has been much less progress on the even bigger problem of global climate change. Although there has been much negotiation, there is still no international agreement on climate change that is comparable to the Montreal Protocol. In 1997, countries signed the Kyoto Protocol,United Nations Framework Convention on Climate Change, Kyoto Protocol to the United Nations Framework Convention on Climate Change, 1998, accessed March 14, 2011, http://unfccc.int/resource/docs/convkp/kpeng.pdf. which was the first major international agreement to address the accumulation of greenhouse gases in the atmosphere. Some countries—notably Canada, Australia, New Zealand, and most of Europe—committed to specific targets, while others made more general commitments. However, the United States did not ratify the agreement. Meanwhile, several of the largest emitters of greenhouse gases, such as China, India, and Indonesia, did not have any specific commitment to greenhouse gas reductions. As a result, the impact of the protocol is greatly limited. One interesting feature of the Kyoto Protocol is that it included provisions for emissions trading.
In 1999, the United Nations held another summit in Copenhagen, in an attempt to make more progress on this topic. The outcome of the summit was the Copenhagen Accord:United Nations Framework Convention on Climate Change, "Copenhagen Accord, Draft decision -/CP.15," Copenhagen, December 7–18, 2009, accessed March 14, 2011, http://unfccc.int/resource/docs/2009/cop15/eng/l07.pdf. a declaration that climate change was a problem. However, no binding commitments on greenhouse gas emissions resulted. A follow-up meeting in Cancún, Mexico, in 2010, delivered the Cancún Agreement,United Nations Framework Convention on Climate Change, "Outcome of the work of the Ad Hoc Working Group on long-term Cooperative Action under the Convention, Draft decision -/CP.16," accessed March 14, 2011, http://unfccc.int/files/meetings/cop_16/application/pdf/cop16_lca.pdf. which—although still not a binding treaty—was judged by many observers to represent significant progress over the Copenhagen Accord. Still, despite many meetings and fine-sounding commitments, the world is a long way from having an agreement on greenhouse gas emissions to match the Montreal Protocol.
Other Kinds of Externalities
Our discussion here has been about externalities arising from either the production or the consumption of goods and services. However, the idea of externality is used much more broadly in economics because it is a very helpful way of diagnosing inefficiencies.
One example comes from the working of labor markets. In general, both firms and workers spend time and resources trying to make a good "match." Firms have human resource departments that spend resources advertising jobs, going through résumés, interviewing job applicants, and so on. Workers spend time preparing their résumés, interviewing at different firms, and so on. Both are willing to do this because a good match can be very beneficial: the firm gets a highly productive worker for which it is willing to pay a good wage.Chapter 9 "Growing Jobs" discusses search and matching in the labor market in more detail.
Now, the more effort the worker and the firm expend, the more likely they are to come up with a good match. And though each benefits individually from this effort, some of the benefit also flows to the other side of the market. In other words, if a worker tries harder to make a good match, this bestows a positive externality on a firm, and if a worker tries harder to make a good match, this bestows a positive externality on the worker.
As another example, is it a good thing if a new fast-food restaurant opens in your town? To answer this, we can think about the externalities that arise because of the decision to enter. When a new restaurant opens, it is providing a product that is similar but not identical to some of the offerings already in the market. It thus steals business from existing restaurants and reduces their profits. We can think of the entry of a new restaurant as imposing a negative externality on existing restaurants. Conversely, the entry of a new restaurant bestows a positive externality on consumers because they benefit from the increased choice. Thus the entry of a new restaurant leads to both positive and negative externalities.
We said previously that if an action has positive externalities, then there will be too little of that action from a social point of view. If an action imposes negative externalities, there will be too much of that action. In this example, the action is the entry of a new firm or product. If the positive externalities are more important, then there is too little entry, from a social point of view. If the negative externalities are more important, then there is too much entry. In general, we cannot draw any conclusions about whether there are too many firms (or products) or too few.
Key Takeaways
An externality arises when an action taken by one person directly affects another's welfare. These operate outside of markets.
One solution to an externality problem is to create a market so that the effects of one person's actions on others will be reflected in the market price of taking that action. Another solution is to put in place taxes or subsidies so that private incentives are aligned with social goals.
One challenge for policy design is that the valuation of environmental goods is difficult to measure. Moreover, external effects do not respect borders, so international agreements are often required.
Checking Your Understanding
If someone living nearby you is playing loud music, is that a positive or negative externality?
In a system with tradable permits, how is the total quantity of permits determined?
Suppose you invent a new product. After the patent expires, others can freely copy your design. Is your act of invention an example of an externality?