Chapter 3

Understanding People at Work: Individual Differences and Perception
Learning Objectives
After reading this chapter, you should be able to do the following:
Define personality and describe how it affects work behaviors.
Understand the role of values in determining work behaviors.
Explain the process of perception and how it affects work behaviors.
Understand how individual differences affect ethics.
Understand cross-cultural influences on individual differences and perception.
Kronos Uses Science to Match Candidates to Jobs
Figure 3.1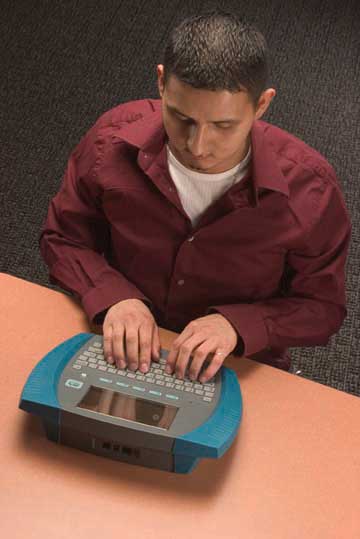 Devices such as these are used to help select employees at kiosks located within retail stores.
You are interviewing a candidate for a position as a cashier in a supermarket. You need someone polite, courteous, patient, and dependable. The candidate you are talking to seems nice. But how do you know who is the right person for the job? Will the job candidate like the job or get bored? Will they have a lot of accidents on the job or be fired for misconduct? Don't you wish you knew before hiring? One company approaches this problem scientifically, saving companies time and money on hiring hourly wage employees.
Retail employers do a lot of hiring, given their growth and high turnover rate. According to one estimate, replacing an employee who leaves in retail costs companies around $4,000. High turnover also endangers customer service. Therefore, retail employers have an incentive to screen people carefully so that they hire people with the best chance of being successful and happy on the job. Unicru, an employee selection company, developed software that quickly became a market leader in screening of hourly workers. The company was acquired by Massachusetts-based Kronos Inc. in 2006.
The idea behind the software is simple: If you have a lot of employees and keep track of your data over time, you have access to an enormous resource. By analyzing this data, you can specify the profile of the "ideal" employee. The software captures the profile of the potential high performers, and applicants are screened to assess their fit with this particular profile. More important, the profile is continuously updated as new employees are hired. As the database gets larger, the software does a better job of identifying the right people for the job.
If you applied for a job in retail, you may have already been a part of this database: The users of this system include giants such as Albertsons, Universal Studios, Costco Wholesale Corporation, Macy's, Blockbuster Inc., Target Brands Inc., and other retailers and chain restaurants. In companies such as Target or Blockbuster, applicants use a kiosk in the store to answer a list of questions and to enter their background, salary history, and other information. In other companies, such as some in the trucking industry, candidates enter the data through the Web site of the company they are applying to. The software screens people on basic criteria such as availability in scheduling as well as personality traits.
Candidates are asked to agree or disagree with statements such as "slow people irritate me" or "I don't act polite when I don't want to." After the candidates complete the questions, hiring managers are sent a report complete with a color-coded suggested course of action. Red means the candidate does not fit the job, yellow means proceed with caution, and green means the candidate can be hired on the spot. Interestingly, the company contends that faking answers to the questions of the software is not easy because it is difficult for candidates to predict the desired profile. For example, according to their research, being a successful salesman has less to do with being an extraverted and sociable person and more to do with a passion for the company's product.
Matching candidates to jobs has long been viewed as a key way of ensuring high performance and low turnover in the workplace, and advances in computer technology are making it easier and more efficient to assess candidate-job fit. Companies using such technology are cutting down the time it takes to hire people, and it is estimated that using such techniques lowers their turnover by 10%–30%.
Sources: Berta, D. (2002, February 25). Industry increases applicant screening amid labor surplus, security concerns. Nation's Restaurant News, 36(8), 4; Frauenheim, E. (2006, March 13). Unicru beefs up data in latest screening tool. Workforce Management, 85(5), 9–10; Frazier, M. (2005, April). Help wanted. Chain Store Age, 81(4), 37–39; Haaland, D. E. (2006, April 17). Safety first: Hire conscientious employees to cut down on costly workplace accidents. Nation's Restaurant News, 40(16), 22–24; Overholt, A. (2002, February). True or false? You're hiring the right people. Fast Company, 55, 108–109; Rafter, M. V. (2005, May). Unicru breaks through in the science of "smart hiring." Workforce Management, 84(5), 76–78.
Individuals bring a number of differences to work, such as unique personalities, values, emotions, and moods. When new employees enter organizations, their stable or transient characteristics affect how they behave and perform. Moreover, companies hire people with the expectation that those individuals have certain skills, abilities, personalities, and values. Therefore, it is important to understand individual characteristics that matter for employee behaviors at work.
3.1 The Interactionist Perspective: The Role of Fit
Learning Objectives
Differentiate between person–organization and person–job fit.
Understand the relationship between person–job fit and work behaviors.
Understand the relationship between person–organization fit and work behaviors.
Individual differences matter in the workplace. Human beings bring in their personality, physical and mental abilities, and other stable traits to work. Imagine that you are interviewing an employee who is proactive, creative, and willing to take risks. Would this person be a good job candidate? What behaviors would you expect this person to demonstrate?
The question posed above is misleading. While human beings bring their traits to work, every organization is different, and every job within the organization is also different. According to the interactionist perspective, behavior is a function of the person and the situation interacting with each other. Think about it. Would a shy person speak up in class? While a shy person may not feel like speaking, if the individual is very interested in the subject, knows the answers to the questions, and feels comfortable within the classroom environment, and if the instructor encourages participation and participation is 30% of the course grade, regardless of the level of shyness, the person may feel inclined to participate. Similarly, the behavior you may expect from someone who is proactive, creative, and willing to take risks will depend on the situation.
When hiring employees, companies are interested in assessing at least two types of fit. Person–organization fitThe degree to which a person's values, personality, goals, and other characteristics match those of the organization. refers to the degree to which a person's values, personality, goals, and other characteristics match those of the organization. Person–job fitThe degree to which a person's skill, knowledge, abilities, and other characteristics match the job demands. is the degree to which a person's skill, knowledge, abilities, and other characteristics match the job demands. Thus, someone who is proactive and creative may be a great fit for a company in the high-tech sector that would benefit from risk-taking individuals, but may be a poor fit for a company that rewards routine and predictable behavior, such as accountants. Similarly, this person may be a great fit for a job such as a scientist, but a poor fit for a routine office job. The opening case illustrates one method of assessing person–organization and person–job fit in job applicants.
The first thing many recruiters look at is the person–job fit. This is not surprising, because person–job fit is related to a number of positive work attitudes such as satisfaction with the work environment, identification with the organization, job satisfaction, and work behaviors such as job performance. Companies are often also interested in hiring candidates who will fit into the company culture (those with high person–organization fit). When people fit into their organization, they tend to be more satisfied with their jobs, more committed to their companies, and more influential in their company, and they actually remain longer in their company. One area of controversy is whether these people perform better. Some studies have found a positive relationship between person–organization fit and job performance, but this finding was not present in all studies, so it seems that fitting with a company's culture will only sometimes predict job performance. It also seems that fitting in with the company culture is more important to some people than to others. For example, people who have worked in multiple companies tend to understand the impact of a company's culture better, and therefore they pay more attention to whether they will fit in with the company when making their decisions. Also, when they build good relationships with their supervisors and the company, being a misfit does not seem to lead to dissatisfaction on the job.
Key Takeaway
While personality traits and other individual differences are important, we need to keep in mind that behavior is jointly determined by the person and the situation. Certain situations bring out the best in people, and someone who is a poor performer in one job may turn into a star employee in a different job.
Exercises
How can a company assess person–job fit before hiring employees? What are the methods you think would be helpful?
How can a company determine person–organization fit before hiring employees? Which methods do you think would be helpful?
What can organizations do to increase person–job and person–organization fit after they hire employees?
3.3 Perception
Learning Objectives
Understand the influence of self in the process of perception.
Describe how we perceive visual objects and how these tendencies may affect our behavior.
Describe the biases of self-perception.
Describe the biases inherent in perception of other people.
Explain what attributions mean, how we form attributions, and their consequences for organizational behavior.
Our behavior is not only a function of our personality, values, and preferences, but also of the situation. We interpret our environment, formulate responses, and act accordingly. PerceptionThe process with which individuals detect and interpret environmental stimuli. may be defined as the process with which individuals detect and interpret environmental stimuli. What makes human perception so interesting is that we do not solely respond to the stimuli in our environment. We go beyond the information that is present in our environment, pay selective attention to some aspects of the environment, and ignore other elements that may be immediately apparent to other people. Our perception of the environment is not entirely rational. For example, have you ever noticed that while glancing at a newspaper or a news Web site, information that is interesting or important to you jumps out of the page and catches your eye? If you are a sports fan, while scrolling down the pages you may immediately see a news item describing the latest success of your team. If you are the parent of a picky eater, an advice column on toddler feeding may be the first thing you see when looking at the page. So what we see in the environment is a function of what we value, our needs, our fears, and our emotions. In fact, what we see in the environment may be objectively, flat-out wrong because of our personality, values, or emotions. For example, one experiment showed that when people who were afraid of spiders were shown spiders, they inaccurately thought that the spider was moving toward them. In this section, we will describe some common tendencies we engage in when perceiving objects or other people, and the consequences of such perceptions. Our coverage of biases and tendencies in perception is not exhaustive—there are many other biases and tendencies on our social perception.
Visual Perception
Our visual perception definitely goes beyond the physical information available to us. First of all, we extrapolate from the information available to us. Take a look at the following figure. The white triangle you see in the middle is not really there, but we extrapolate from the information available to us and see it there.
Figure 3.7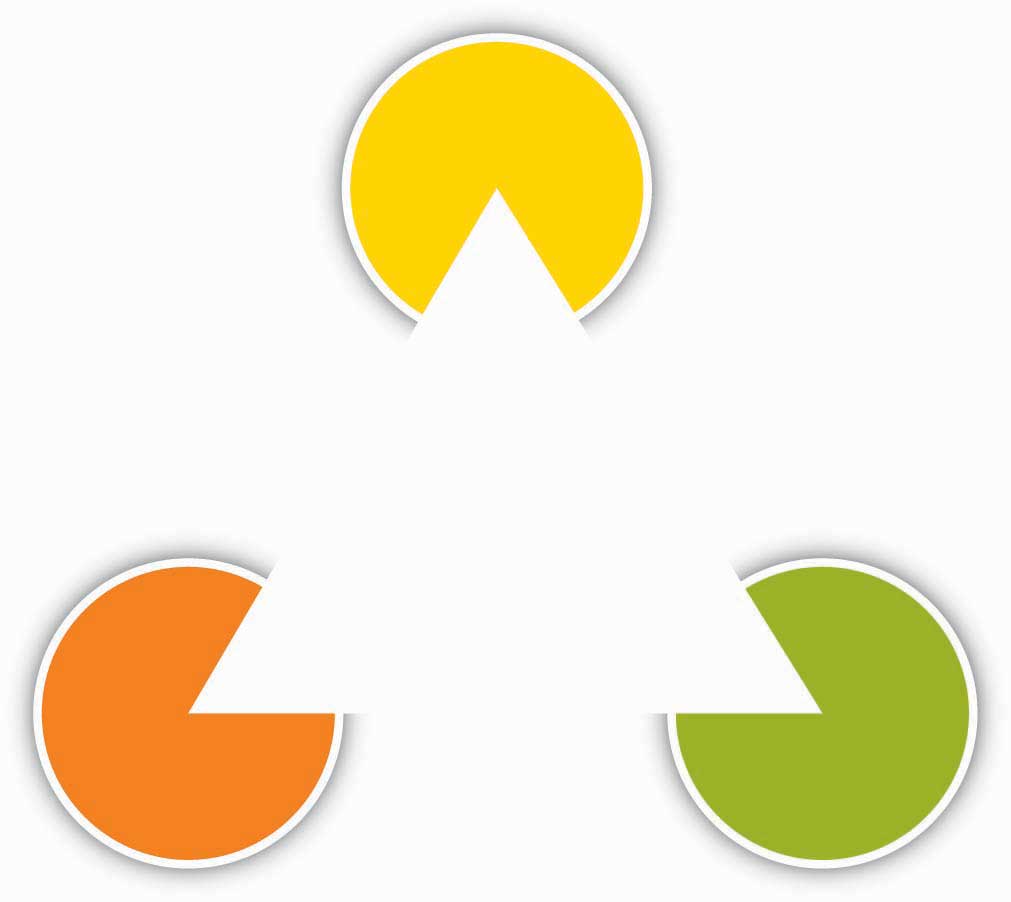 Our visual perception goes beyond the information physically available. In this figure, we see the white triangle in the middle even though it is not really there.
Our visual perception is often biased because we do not perceive objects in isolation. The contrast between our focus of attention and the remainder of the environment may make an object appear bigger or smaller. This principle is illustrated in the figure with circles. Which of the middle circles is bigger? To most people, the one on the left appears bigger, but this is because it is surrounded by smaller circles. The contrast between the focal object and the objects surrounding it may make an object bigger or smaller to our eye.
Figure 3.8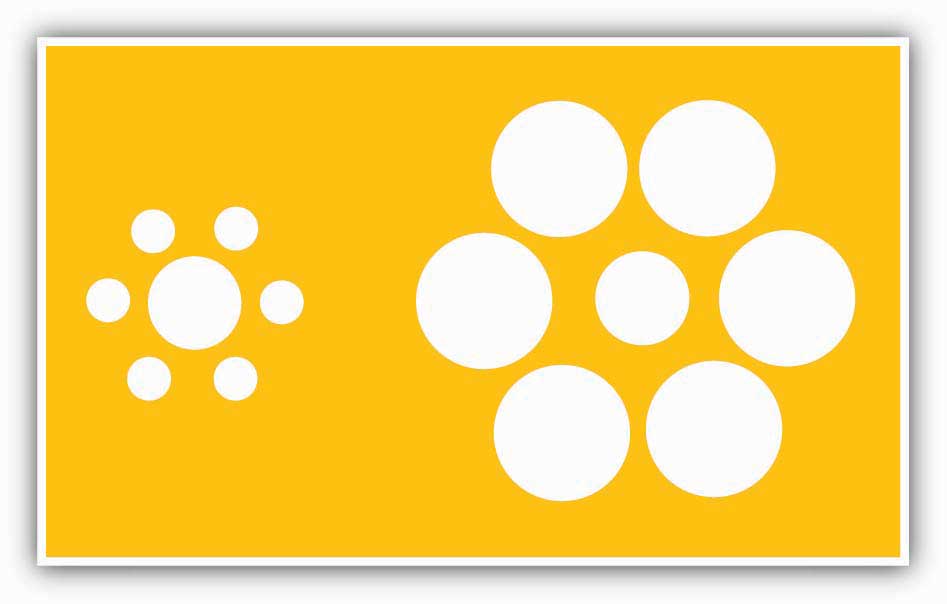 Which of the circles in the middle is bigger? At first glance, the one on the left may appear bigger, but they are in fact the same size. We compare the middle circle on the left to its surrounding circles, whereas the middle circle on the right is compared to the bigger circles surrounding it.
How do these tendencies influence behavior in organizations? You may have realized that the fact that our visual perception is faulty may make witness testimony faulty and biased. How do we know whether the employee you judge to be hardworking, fast, and neat is really like that? Is it really true, or are we comparing this person to other people in the immediate environment? Or let's say that you do not like one of your peers and you think that this person is constantly surfing the Web during work hours. Are you sure? Have you really seen this person surf unrelated Web sites, or is it possible that the person was surfing the web for work-related purposes? Our biased visual perception may lead to the wrong inferences about the people around us.
Self-Perception
Human beings are prone to errors and biases when perceiving themselves. Moreover, the type of bias people have depends on their personality. Many people suffer from self-enhancement biasThe tendency to overestimate our performance and capabilities and to see ourselves in a more positive light than others see us.. This is the tendency to overestimate our performance and capabilities and see ourselves in a more positive light than others see us. People who have a narcissistic personality are particularly subject to this bias, but many others are still prone to overestimating their abilities. At the same time, other people have the opposing extreme, which may be labeled as self-effacement biasThe tendency to underestimate our performance and capabilities, and to see events in a way that puts ourselves in a more negative light.. This is the tendency for people to underestimate their performance, undervalue capabilities, and see events in a way that puts them in a more negative light. We may expect that people with low self-esteem may be particularly prone to making this error. These tendencies have real consequences for behavior in organizations. For example, people who suffer from extreme levels of self-enhancement tendencies may not understand why they are not getting promoted or rewarded, while those who have a tendency to self-efface may project low confidence and take more blame for their failures than necessary.
When perceiving themselves, human beings are also subject to the false consensus errorHow we as human beings overestimate how similar we are to other people.. Simply put, we overestimate how similar we are to other people. We assume that whatever quirks we have are shared by a larger number of people than in reality. People who take office supplies home, tell white lies to their boss or colleagues, or take credit for other people's work to get ahead may genuinely feel that these behaviors are more common than they really are. The problem for behavior in organizations is that, when people believe that a behavior is common and normal, they may repeat the behavior more freely. Under some circumstances this may lead to a high level of unethical or even illegal behaviors.
Social Perception
How we perceive other people in our environment is also shaped by our values, emotions, feelings, and personality. Moreover, how we perceive others will shape our behavior, which in turn will shape the behavior of the person we are interacting with.
One of the factors biasing our perception is stereotypesGeneralizations based on a perceived group characteristic.. Stereotypes are generalizations based on group characteristics. For example, believing that women are more cooperative than men, or men are more assertive than women, is a stereotype. Stereotypes may be positive, negative, or neutral. Human beings have a natural tendency to categorize the information around them to make sense of their environment. What makes stereotypes potentially discriminatory and a perceptual bias is the tendency to generalize from a group to a particular individual. If the belief that men are more assertive than women leads to choosing a man over an equally (or potentially more) qualified female candidate for a position, the decision will be biased, potentially illegal, and unfair.
Stereotypes often create a situation called a self-fulfilling prophecyThis happens when an established stereotype causes one to behave in a certain way, which leads the other party to behave in a way that makes the stereotype come true.. This cycle occurs when people automatically behave as if an established stereotype is accurate, which leads to reactive behavior from the other party that confirms the stereotype. If you have a stereotype such as "Asians are friendly," you are more likely to be friendly toward an Asian yourself. Because you are treating the other person better, the response you get may also be better, confirming your original belief that Asians are friendly. Of course, just the opposite is also true. Suppose you believe that "young employees are slackers." You are less likely to give a young employee high levels of responsibility or interesting and challenging assignments. The result may be that the young employee reporting to you may become increasingly bored at work and start goofing off, confirming your suspicions that young people are slackers!
Stereotypes persist because of a process called selective perception. Selective perceptionWhen we pay selective attention to parts of the environment while ignoring other parts. simply means that we pay selective attention to parts of the environment while ignoring other parts. When we observe our environment, we see what we want to see and ignore information that may seem out of place. Here is an interesting example of how selective perception leads our perception to be shaped by the context: As part of a social experiment, in 2007 the Washington Post newspaper arranged Joshua Bell, the internationally acclaimed violin virtuoso, to perform in a corner of the Metro station in Washington DC. The violin he was playing was worth $3.5 million, and tickets for Bell's concerts usually cost around $100. During the rush hour in which he played for 45 minutes, only one person recognized him, only a few realized that they were hearing extraordinary music, and he made only $32 in tips. When you see someone playing at the metro station, would you expect them to be extraordinary?
Our background, expectations, and beliefs will shape which events we notice and which events we ignore. For example, the functional background of executives affects the changes they perceive in their environment. Executives with a background in sales and marketing see the changes in the demand for their product, while executives with a background in information technology may more readily perceive the changes in the technology the company is using. Selective perception may perpetuate stereotypes, because we are less likely to notice events that go against our beliefs. A person who believes that men drive better than women may be more likely to notice women driving poorly than men driving poorly. As a result, a stereotype is maintained because information to the contrary may not reach our brain.
Let's say we noticed information that goes against our beliefs. What then? Unfortunately, this is no guarantee that we will modify our beliefs and prejudices. First, when we see examples that go against our stereotypes, we tend to come up with subcategories. For example, when people who believe that women are more cooperative see a female who is assertive, they may classify this person as a "career woman." Therefore, the example to the contrary does not violate the stereotype, and instead is explained as an exception to the rule. Second, we may simply discount the information. In one study, people who were either in favor of or opposed to the death penalty were shown two studies, one showing benefits from the death penalty and the other discounting any benefits. People rejected the study that went against their belief as methodologically inferior and actually reinforced the belief in their original position even more. In other words, trying to debunk people's beliefs or previously established opinions with data may not necessarily help.
Figure 3.9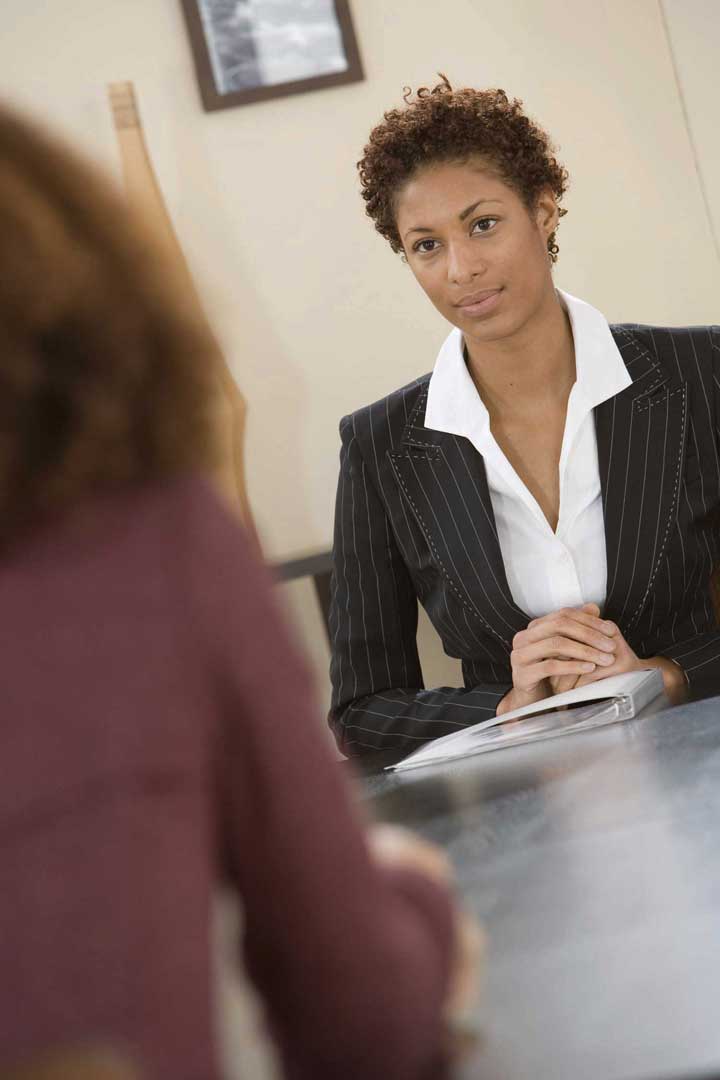 First impressions are lasting. A job interview is one situation in which first impressions formed during the first few minutes may have consequences for your relationship with your future boss or colleagues.
© 2010 Jupiterimages Corporation
One other perceptual tendency that may affect work behavior is that of first impressionsInitial thoughts and perceptions we form about people, which tend to be stable and resilient to contrary information.. The first impressions we form about people tend to have a lasting impact. In fact, first impressions, once formed, are surprisingly resilient to contrary information. Even if people are told that the first impressions were caused by inaccurate information, people hold onto them to a certain degree. The reason is that, once we form first impressions, they become independent of the evidence that created them. Any information we receive to the contrary does not serve the purpose of altering the original impression. Imagine the first day you met your colleague Anne. She treated you in a rude manner and when you asked for her help, she brushed you off. You may form the belief that she is a rude and unhelpful person. Later, you may hear that her mother is very sick and she is very stressed. In reality she may have been unusually stressed on the day you met her. If you had met her on a different day, you could have thought that she is a really nice person who is unusually stressed these days. But chances are your impression that she is rude and unhelpful will not change even when you hear about her mother. Instead, this new piece of information will be added to the first one: She is rude, unhelpful, and her mother is sick. Being aware of this tendency and consciously opening your mind to new information may protect you against some of the downsides of this bias. Also, it would be to your advantage to pay careful attention to the first impressions you create, particularly during job interviews.
OB Toolbox: How Can I Make a Great First Impression in the Job Interview?
A job interview is your first step to getting the job of your dreams. It is also a social interaction in which your actions during the first 5 minutes will determine the impression you make. Here are some tips to help you create a positive first impression.
Your first opportunity to make a great impression starts even before the interview, the moment you send your résumé. Be sure that you send your résumé to the correct people, and spell the name of the contact person correctly! Make sure that your résumé looks professional and is free from typos and grammar problems. Have someone else read it before you hit the send button or mail it.
Be prepared for the interview. Many interviews have some standard questions such as "tell me about yourself" or "why do you want to work here?" Be ready to answer these questions. Prepare answers highlighting your skills and accomplishments, and practice your message. Better yet, practice an interview with a friend. Practicing your answers will prevent you from regretting your answers or finding a better answer after the interview is over!
Research the company. If you know a lot about the company and the job in question, you will come out as someone who is really interested in the job. If you ask basic questions such as "what does this company do?" you will not be taken as a serious candidate. Visit the company's Web site as well as others, and learn as much about the company and the job as you can.
When you are invited for an office interview, be sure to dress properly. Like it or not, the manner you dress is a big part of the impression you make. Dress properly for the job and company in question. In many jobs, wearing professional clothes, such as a suit, is expected. In some information technology jobs, it may be more proper to wear clean and neat business casual clothes (such as khakis and a pressed shirt) as opposed to dressing formally. Do some investigation about what is suitable. Whatever the norm is, make sure that your clothes fit well and are clean and neat.
Be on time to the interview. Being late will show that you either don't care about the interview or you are not very reliable. While waiting for the interview, don't forget that your interview has already started. As soon as you enter the company's parking lot, every person you see on the way or talk to may be a potential influence over the decision maker. Act professionally and treat everyone nicely.
During the interview, be polite. Use correct grammar, show eagerness and enthusiasm, and watch your body language. From your handshake to your posture, your body is communicating whether you are the right person for the job!
Sources: Adapted from ideas in Bruce, C. (2007, October). Business Etiquette 101: Making a good first impression. Black Collegian, 38(1), 78–80; Evenson, R. (2007, May). Making a great first impression. Techniques, 14–17; Mather, J., & Watson, M. (2008, May 23). Perfect candidate. The Times Educational Supplement, 4789, 24–26; Messmer, M. (2007, July). 10 minutes to impress. Journal of Accountancy, 204(1), 13; Reece, T. (2006, November–December). How to wow! Career World, 35, 16–18.
Attributions
Your colleague Peter failed to meet the deadline. What do you do? Do you help him finish up his work? Do you give him the benefit of the doubt and place the blame on the difficulty of the project? Or do you think that he is irresponsible? Our behavior is a function of our perceptions. More specifically, when we observe others behave in a certain way, we ask ourselves a fundamental question: Why? Why did he fail to meet the deadline? Why did Mary get the promotion? Why did Mark help you when you needed help? The answer we give is the key to understanding our subsequent behavior. If you believe that Mark helped you because he is a nice person, your action will be different from your response if you think that Mark helped you because your boss pressured him to.
An attributionThe causal explanation we give for an observed behavior. is the causal explanation we give for an observed behavior. If you believe that a behavior is due to the internal characteristics of an actor, you are making an internal attributionExplaining someone's behavior using the internal characteristics of the actor.. For example, let's say your classmate Erin complained a lot when completing a finance assignment. If you think that she complained because she is a negative person, you are making an internal attribution. An external attributionExplaining someone's behavior by referring to the situation. is explaining someone's behavior by referring to the situation. If you believe that Erin complained because finance homework was difficult, you are making an external attribution.
When do we make internal or external attributions? Research shows that three factors are the key to understanding what kind of attributions we make.
ConsensusThe degree to which other people behave the same way as the actor.: Do other people behave the same way?
DistinctivenessThe degree to which the actor behaves the same way across different situations.: Does this person behave the same way across different situations?
ConsistencyThe degree to which the actor behaves the same way on different occasions in the same situation.: Does this person behave this way in different occasions in the same situation?
Let's assume that in addition to Erin, other people in the same class also complained (high consensus). Erin does not usually complain in other classes (high distinctiveness). Erin usually does not complain in finance class (low consistency). In this situation, you are likely to make an external attribution, such as thinking that finance homework is difficult. On the other hand, let's assume that Erin is the only person complaining (low consensus). Erin complains in a variety of situations (low distinctiveness), and every time she is in finance, she complains (high consistency). In this situation, you are likely to make an internal attribution such as thinking that Erin is a negative person.
Interestingly though, our attributions do not always depend on the consensus, distinctiveness, and consistency we observe in a given situation. In other words, when making attributions, we do not always look at the situation objectively. For example, our overall relationship is a factor. When a manager likes a subordinate, the attributions made would be more favorable (successes are attributed to internal causes, while failures are attributed to external causes). Moreover, when interpreting our own behavior, we suffer from self-serving biasThe tendency to attribute our failures to the situation while attributing our successes to internal causes.. This is the tendency to attribute our failures to the situation while attributing our successes to internal causes.
Table 3.1 Consensus, distinctiveness, and consistency determine the type of attribution we make in a given situation.
Consensus
Distinctiveness
Consistency
Type of attribution
High consensus
High distinctiveness
Low consistency
External
Everyone else behaves the same way.
This person does not usually behave this way in different situations.
This person does not usually behave this way in this situation.
Low consensus
Low distinctiveness
High consistency
Internal
No one else behaves the same way.
This person usually behaves this way in different situations.
Every time this person is in this situation, he or she acts the same way.
How we react to other people's behavior would depend on the type of attributions we make. When faced with poor performance, such as missing a deadline, we are more likely to punish the person if an internal attribution is made (such as "the person being unreliable"). In the same situation, if we make an external attribution (such as "the timeline was unreasonable"), instead of punishing the person we might extend the deadline or assign more help to the person. If we feel that someone's failure is due to external causes, we may feel empathy toward the person and even offer help. On the other hand, if someone succeeds and we make an internal attribution (he worked hard), we are more likely to reward the person, whereas an external attribution (the project was easy) is less likely to yield rewards for the person in question. Therefore, understanding attributions is important to predicting subsequent behavior.
Key Takeaway
Perception is how we make sense of our environment in response to environmental stimuli. While perceiving our surroundings, we go beyond the objective information available to us, and our perception is affected by our values, needs, and emotions. There are many biases that affect human perception of objects, self, and others. When perceiving the physical environment, we fill in gaps and extrapolate from the available information. We also contrast physical objects to their surroundings and may perceive something as bigger, smaller, slower, or faster than it really is. In self-perception, we may commit the self-enhancement or self-effacement bias, depending on our personality. We also overestimate how much we are like other people. When perceiving others, stereotypes infect our behavior. Stereotypes may lead to self-fulfilling prophecies. Stereotypes are perpetuated because of our tendency to pay selective attention to aspects of the environment and ignore information inconsistent with our beliefs. When perceiving others, the attributions we make will determine how we respond to the situation. Understanding the perception process gives us clues to understand human behavior.
Exercises
What are the implications of contrast error for interpersonal interactions? Does this error occur only when we observe physical objects? Or have you encountered this error when perceiving behavior of others?
What are the problems of false consensus error? How can managers deal with this tendency?
Is there such a thing as a "good" stereotype? Is a "good" stereotype useful or still problematic?
How do we manage the fact that human beings develop stereotypes? How would you prevent stereotypes from creating unfairness in decision making?
Is it possible to manage the attributions other people make about our behavior? Let's assume that you have completed a project successfully. How would you maximize the chances that your manager will make an internal attribution? How would you increase the chances of an external attribution when you fail in a task?
3.4 The Role of Ethics and National Culture
Learning Objectives
Consider the role of individual differences for ethical behavior.
Consider the role of national culture on individual differences.
Individual Differences and Ethics
Our values and personality influence how ethical we behave. Situational factors, rewards, and punishments following unethical choices as well as a company's culture are extremely important, but the role of personality and personal values should not be ignored. Research reveals that people who have an economic value orientation, that is, those who value acquiring money and wealth, tend to make more unethical choices. In terms of personality, employees with external locus of control were found to make more unethical choices.
Our perceptual processes are clear influences on whether or not we behave ethically and how we respond to other people's unethical behaviors. It seems that self-enhancement bias operates for our ethical decisions as well: We tend to overestimate how ethical we are in general. Our self-ratings of ethics tend to be higher than how other people rate us. This belief can create a glaring problem: If we think that we are more ethical than we are, we will have little motivation to improve. Therefore, understanding how other people perceive our actions is important to getting a better understanding of ourselves.
How we respond to unethical behavior of others will, to a large extent, depend on the attributions we make. If we attribute responsibility to the person in question, we are more likely to punish that person. In a study on sexual harassment that occurred after a workplace romance turned sour, results showed that if we attribute responsibility to the victim, we are less likely to punish the harasser. Therefore, how we make attributions in a given situation will determine how we respond to others' actions, including their unethical behaviors.
Individual Differences Around the Globe
Values that people care about vary around the world. In fact, when we refer to a country's culture, we are referring to values that distinguish one nation from others. In other words, there is systematic variance in individuals' personality and work values around the world, and this variance explains people's behavior, attitudes, preferences, and the transferability of management practices to other cultures.
When we refer to a country's values, this does not mean that everyone in a given country shares the same values. People differ within and across nations. There will always be people who care more about money and others who care more about relationships within each culture. Yet there are also national differences in the percentage of people holding each value. A researcher from Holland, Geert Hofstede, conducted a landmark study covering over 60 countries and found that countries differ in four dimensions: the extent to which they put individuals or groups first (individualism), whether the society subscribes to equality or hierarchy among people (power distance), the degree to which the society fears change (uncertainty avoidance), and the extent to which the culture emphasizes acquiring money and being successful (masculinity). Knowing about the values held in a society will tell us what type of a workplace would satisfy and motivate employees.
Are personality traits universal? Researchers found that personality traits identified in Western cultures translate well to other cultures. For example, the five-factor model of personality is universal in that it explains how people differ from each other in over 79 countries. At the same time, there is variation among cultures in the dominant personality traits. In some countries, extraverts seem to be the majority, and in some countries the dominant trait is low emotional stability. For example, people from Europe and the United States are characterized by higher levels of extraversion compared to those from Asia and Africa. There are many factors explaining why some personality traits are dominant in some cultures. For example, the presence of democratic values is related to extraversion. Because democracy usually protects freedom of speech, people may feel more comfortable socializing with strangers as well as with friends, partly explaining the larger number of extraverts in democratic nations. Research also shows that in regions of the world that historically suffered from infectious diseases, extraversion and openness to experience was less dominant. Infectious diseases led people to limit social contact with strangers, explaining higher levels of introversion. Plus, to cope with infectious diseases, people developed strict habits for hygiene and the amount of spice to use in food, and deviating from these standards was bad for survival. This explains the lower levels of openness to experience in regions that experienced infectious diseases.
Is basic human perception universal? It seems that there is variation around the globe in how we perceive other people as well as ourselves. One difference is the importance of the context. Studies show that when perceiving people or objects, Westerners pay more attention to the individual, while Asians pay more attention to the context. For example, in one study, when judging the emotion felt by the person, the Americans mainly looked at the face of the person in question, while the Japanese also considered the emotions of the people surrounding the focal person. In other words, the Asian subjects of the experiment derived meaning from the context as well as by looking at the person.
There seems to be some variation in the perceptual biases we commit as well. For example, human beings have a tendency to self-enhance. We see ourselves in a more positive light than others do. Yet, the traits in which we self-enhance are culturally dependent. In Western cultures, people may overestimate how independent and self-reliant they are. In Asian cultures, such traits are not necessarily desirable, so they may not embellish their degree of independence. Yet, they may overestimate how cooperative and loyal to the group they are because these traits are more desirable in collectivistic cultures.
Given the variation in individual differences around the globe, being sensitive to these differences will increase our managerial effectiveness when managing a diverse group of people.
Personality Around the Globe
Which nations have the highest average self-esteem? Researchers asked this question by surveying almost 17,000 individuals across 53 nations, in 28 languages.
Based on this survey, these are the top 10 nations in terms of self-reported self-esteem.
Serbia
Chile
Israel
Peru
Estonia
United States
Turkey
Mexico
Croatia
Austria
The 10 nations with the lowest self-reported self-esteem are the following:
South Korea
Switzerland
Morocco
Slovakia
Fiji
Taiwan
Czech Republic
Bangladesh
Hong Kong
Japan
Source: Adapted from information in Denissen, J. J. A., Penke, L., & Schmitt, D. P. (2008, July). Self-esteem reactions to social interactions: Evidence for sociometer mechanisms across days, people, and nations. Journal of Personality and Social Psychology, 95, 181–196; Hitti, M. (2005). Who's no. 1 in self-esteem? Serbia is tops, Japan ranks lowest, U.S. is no. 6 in global survey. WebMD. Retrieved November 14, 2008, from http://www.webmd.com/skin-beauty/news/20050927/whos-number-1-in-self-esteem; Schmitt, D. P., & Allik, J. (2005). The simultaneous administration of the Rosenberg self-esteem scale in 53 nationals: Culture-specific features of global self-esteem. Journal of Personality and Social Psychology, 89, 623–642.
Key Takeaway
There is a connection between how ethically we behave and our individual values, personality, and perception. Possessing values emphasizing economic well-being predicts unethical behavior. Having an external locus of control is also related to unethical decision making. We are also likely to overestimate how ethical we are, which can be a barrier against behaving ethically. Culture seems to be an influence over our values, personality traits, perceptions, attitudes, and work behaviors. Therefore, understanding individual differences requires paying careful attention to the cultural context.
Exercises
If ethical decision making depends partially on personality, what can organizations do to increase the frequency of ethical behaviors?
Do you think personality tests used in Western cultures in employee selection can be used in other cultures?